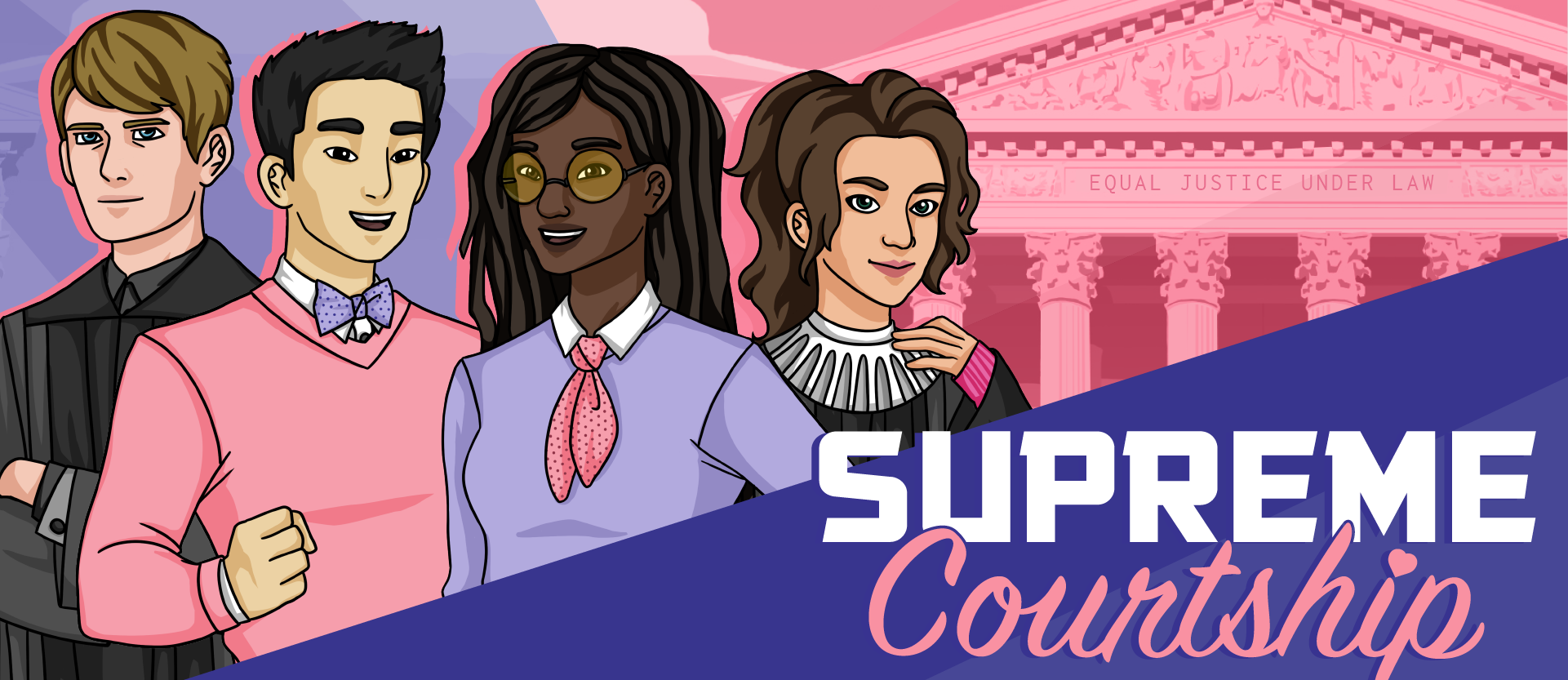 Supreme Courtship: Comedy, Adventure, JUSTICE!
A downloadable game for Windows and macOS

Check out the FREE Supreme Courtship demo here! The demo is available for both PC and Mac. Supreme Courtship is now on Kickstarter, so if you like what you see consider backing us to make this project a reality!
All rise! The Supreme Court is now in session. This term brings a fresh face: you!
Supreme Courtship is a comedic visual novel adventure game, where you learn about the people and proceedings of our nation's highest Court. In Supreme Courtship, you'll be able to:
Join a bench with young, stylish versions of your favorite Justices - Justice Ginsburg, Chief Justice Roberts, and more!
Master the powers of the third branch of government!
Experience the world's first Judicial Friendship Simulator
Win friends and influence people (to your side of an argument) and unlock custom side stories and endings!
Learn the ins-and-outs of the most important Supreme Court cases in recent history
Uncover a thrilling political mystery that may put our very Democracy at risk
BE the change you want to see in the world!
With so much to learn, you'll need to rely on your sharp-witted colleagues to get you up to speed!
With nine Supreme Court seats, there's a lot of legal talent on the bench! As the newly appointed ninth member, you'll meet younger, stylish versions of the other eight real-life Supreme Court Justices. These Justices may look different, but they're still true to their original counterparts, having the same personality and ideological leanings - just turned up to 11.
As you spend time with each Justice, you'll learn more about their views, their background, and their hobbies - all based on real life. If you befriend a Justice, you might even unlock special side stories and endings! Supreme Courtship will initially feature side stories for Chief Justice Roberts, Justice Ginsburg, and Justice Kennedy. With additional funding, we'll be able to add Justice Thomas, Justice Kagan, and the rest! Check out our stretch goals to see how you can get your favorite Justice's story unlocked!
And now, without further ado, let's meet the bench! *For information about who we chose for the bench and why, check out our FAQ section.
Chief Justice John Roberts
They don't call him Chief Justice for nothing - as the leader of the Court, Roberts role is to safeguard justice itself. He's your no-nonsense, stern-but-kind-hearted Court Daddy (though don't ever let him hear you call him that). He presides over the bench with one rule in mind - never lower the integrity of the Court.
Associate Justice Anthony Kennedy
Kennedy has been on the Court longer than anyone else, and he won't stop reminding everyone about it. As the hot and cold swing vote on the Court, Kennedy is used to people trying to convince him onto their side, and he doesn't make it easy!
Associate Justice Ruth Bader Ginsburg
Known as the Notorious R.B.G. both on and off the Court, Ginsburg is a stand out presence. It's well known not to take her soft spoken demeanor for granted, as she is always ready to cut down injustice with her impeccably structured dissents. She's an unrelenting liberal powerhouse that won't back down no matter what!
Associate Justice Clarence Thomas
Infamous for his silent demeanor on the Court, there's more than meets the eye with Thomas. Contrasting Ginsburg as the most conservative presence on the Court, swaying Thomas' opinions can be harder than moving mountains.
Associate Justice Stephen Breyer
More than any other, Breyer judges with his heart. A firm believer that caring is not a weakness, he works to make sure the Court is thinking of the people, not the policies. Some would say Breyer is an open book (or a chatterbox), but Breyer would say he just likes to share!
Associate Justice Samuel Alito
Alito is not known for holding his tongue on the bench. Active, competitive and direct, Alito aims to take the shortest path to reaching his goals. Though he can butt heads with other members of the Court, he's more thrilled by the competition rather than the outcome.
Associate Justice Sonia Sotomayor
Sotomayor is forever looking forward, and her aspirations for the future keep her fighting for social change and growth within the Court. She's always open with her opinions, and will do what she can to get you on her side. Above all, Sotomayor knows that the Court will make history, and she wants to make sure it's the right kind of history.
Associate Justice Elena Kagan
Before your arrival, Elena Kagan was the Court's newest member, so she still feels like she has a lot to prove. While the other may take a broad view, she zooms in on the minutiae on which entire cases hinge, building her position from the ground up. She'll be eager to share her analyses, assuming you can keep up!
And... You?
As the newly appointed - and totally unqualified - ninth Justice, it's your job to learn how the Supreme Court works, and how your new colleagues approach certain issues. No big deal, right..?
Players can choose their Justice from one of two highly-expressive avatars, as well as the pronoun they prefer to use (he, she, they). Neither will affect the story or which Justices the player can befriend. Check out our stretch goals below to see how you can help unlock even more avatars, and participate in selecting the next design!
Supreme Courtship takes place in a fictional present-day Washington D.C. After a mysterious death leaves a vacancy on the Court, you are appointed to fill the open seat!
What's that? You don't know anything about the Constitution? Or the Court? Or the rule of law?? Too bad they didn't ask you about any of that before they picked you for the position. Oh well, I'm sure you'll figure it out!
You'll learn your job on-the-fly with the help of your eight honorable colleagues and dutiful law clerks. Earn the esteem of your fellow Justices, cast votes on pivotal court cases, and untangle a political mystery that threatens the very foundation of our Democracy!
Supreme Courtship is a visual novel game along the lines of Phoenix Wright: Ace Attorney, with interesting characters, dramatic courtroom scenes, exciting locations to visit, and a central mystery. Players will have a lot of freedom and choice - after all, making impactful decisions is what being a judge is all about! Players can choose their character, what to do in their free time, which Justices to talk to, and how to investigate a chilling murder. Most importantly, though, players will learn about, argue, and cast a vote on a number of real-life court cases - and their decisions will have lasting impacts on the characters and the story.
Supreme Courtship takes a page from the dating sim genre by offering character-focused side-stories and the ability to track and grow your friendship (or "esteem") with the other Justices. Raising your esteem with a Justice will unlock special segments of the story, and fill you in on the Justice's background and philosophy. Unlike most dating sims, though, there won't be any explicit romance or sexuality - we'll keep it PG-13.
In addition to all this, we've prototyped a number of other mechanics that we're excited about! However, they all need extra polish, and are likely out of scope for us without a successful Kickstarter. With your help, we can bring these features to life!
These extra features include:
Generate your own legal opinions - mad-libs style - and share them with the world!
Use your gavel to interrupt other characters and take control of the conversation! This can be used to rewind dialogue to the most recent choice, allowing you to change your response!
Defeat your fellow Justices in real-time debates!
Complete learning minigames that challenge your knowledge of the judicial branch!
Making a game is hard. Making a game with educational goals rooted in politics? Waaay harder.
(Some might even call it crazy. We prefer the term "overly ambitious")
When we first began working on Supreme Courtship, we knew it was going to be an uphill battle. But we also knew that this was an idea that could really impact people for the better. After months of research, working long nights, coding, drawing, and reaching out to countless smart people for guidance, we believe that we have a real action plan on how to make this game a success. All we need is some funding.
As a two person team with no outside funding, we need some extra help to get the resources to make this game the best it can be. On Kickstarter, we have a great opportunity to show you lovely backers what we're capable of. Likewise, our backers have the opportunity to help us create something unique, informative, and fun for people all over the country, and allow us to shed some light on an oft-overlooked branch of our government.
With Kickstarter we hope to achieve:
Enough funding to make this game a reality
Feedback on the work we've done so far in our game demo
An understanding on what features and storylines players are most excited for
Connection with fans throughout the development process, to help us make something that people love
An extra boost in funding to help us make some features we're really passionate about, but need more support to make
And above all, we want to figure out how many wonderful people are out there that want to support us and make Supreme Courtship a reality!
For the past year, we've been self-funding the work on Supreme Courtship, which has put very real limits on what we've been able to accomplish. But with the support of our lovely backers on Kickstarter, we can make the game even more well-researched and polished, and include some exciting features that will take a bit more elbow grease.
So how will the funds from Kickstarter be used? Here's a breakdown:
With a successful Kickstarter, we plan to release Supreme Courtship by late 2020.
Thank you for all your support in helping make this game a reality! We deeply appreciate your support. Please spread the word - sharing this page or backing with even just a dollar, it all helps!!
We're Just Us Games Studio, a two-person indie game studio located in sunny Seattle, WA. We have a passion for making games that teach, delight, and entertain. Supreme Courtship is our flagship title.
Core Team
Of course, we couldn't make this game without the help of a wealth of talented people. We've been fortunate to work with many great collaborators and advisors. Here they are!
Other Collaborators
Special Thanks
Justice Sheryl Gordon McCloud (Washington State Supreme Court)
Professor Laura Anglin (Washington State Supreme Court, Seattle University)
Alex O'Neill (ChanWalrusMusic)
Faye Krupp
Dominique Theodore Thomas
Kyler Marie Danielson
Andrew Asplund
Paul Dean
Seattle Indies (Website)
Stay in touch with all things Supreme Courtship by joining us on social media. We also have a public Discord, where you can talk to us directly, see updates on the game, and participate in exclusive polls! You can also wishlist Supreme Courtship on Steam!
Thanks for your support!
| | |
| --- | --- |
| Status | In development |
| Platforms | Windows, macOS |
| Rating | |
| Author | Just Us Games |
| Genre | Visual Novel, Adventure, Educational |
| Made with | Unity |
| Tags | 2D, Casual, Comedy, Funny, Narrative, satire, Singleplayer |
| Average session | About a half-hour |
| Languages | English |
| Inputs | Keyboard, Mouse |
| Accessibility | Subtitles |
| Links | Steam, Homepage, Kickstarter, Twitter, Steam |